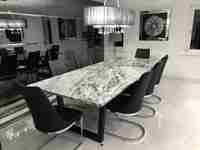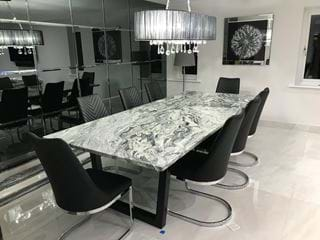 All In Stone is a long-standing family business, run by a team of dedicated, loyal and technically brilliant people. Between us, we have a combined 100 years' experience working in the stone industry.
We understand that our customers are looking for high quality stone furniture that is elegant, beautifully crafted and enduring. That is exactly what we provide.
Our portfolio includes an array of stunning quartz, dekton, granite and marble dining tables, coffee tables and console tables.
We take pride in being leaders of manufactured quality stone furniture, using the latest technology and machining, at a competitive price.
We boast a factory showroom to display some of our beautiful stone masterpieces, giving you the opportunity to see first-hand the excellent quality and design of our furniture before it leaves the factory floor. We also have a further 2 retail showrooms in Cheshire and Hampshire.
All In Stone is a partner of the Granite & Marble Shop, specialising in stone kitchen work surfaces.
We are proud of our excellent reputation in both areas of the business to provide efficient, professional and honest customer service, always fully committed to providing the highest standards.
We are members of the Federation for Small Business with whom we work closely to reach our growing ambitions.